Raqib Shaw on show at Ca' Pesaro, Venice
Reading Time:
3
minutes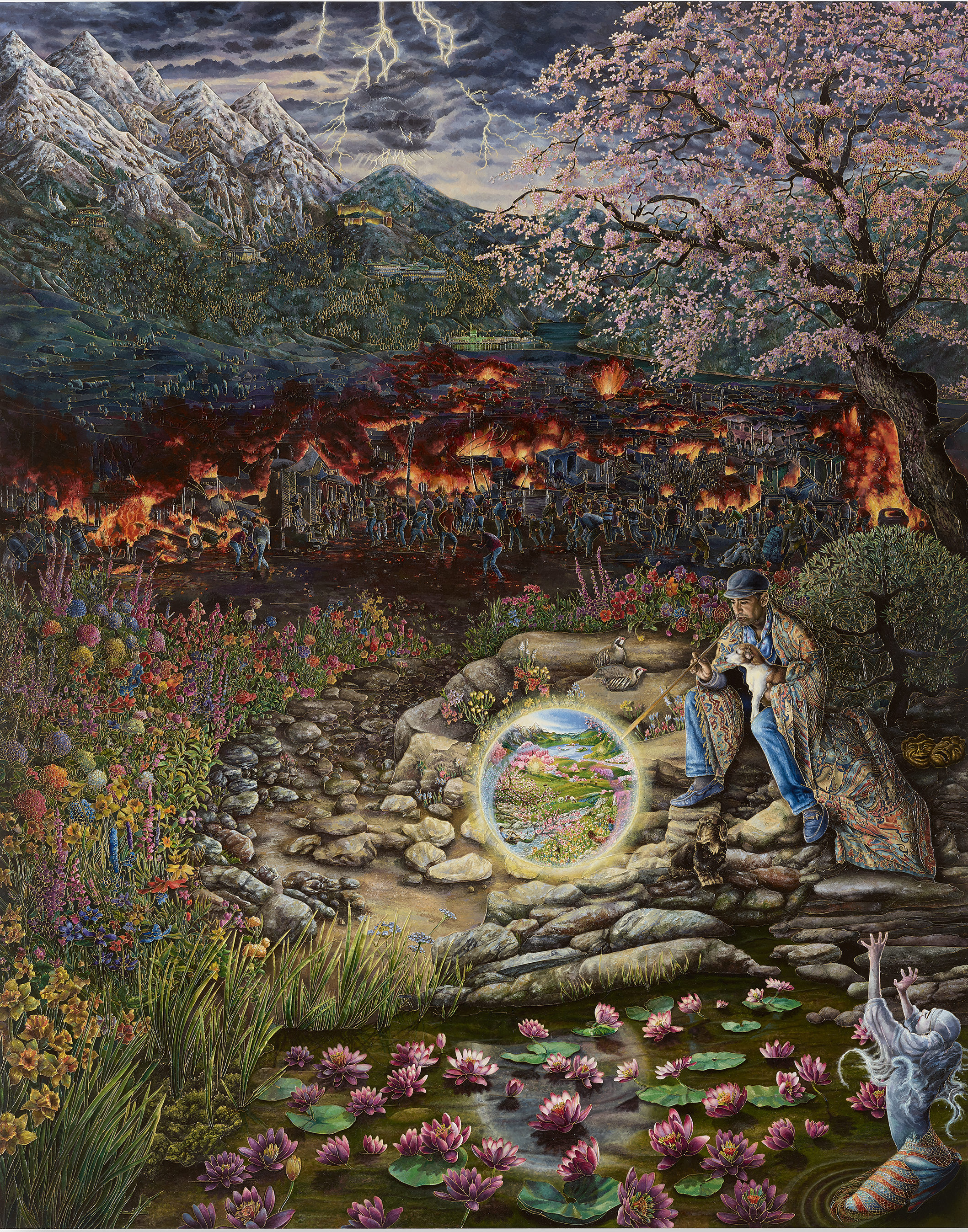 Richness of colors, complexity of forms, exchange of cultures: a true artistic cocktail that can be enjoyed at the solo-show Raqib Shaw: Palazzo della Memoria, at Ca' Pesaro International Gallery of Modern Art in Venice, organized in collaboration with White Cube gallery, London, and curated by Sir Norman Rosenthal.
"My works depict a world that exists in my imagination, a place where beauty, sex and hedonism participate in a delicious orgy; as in a perpetual orgasm, there are no limits, boundaries or labels, only pleasure for the sheer sake of exploring pleasure". Thus, Indian-born artist Raqib Shaw tries to portray the desire, impetus and excitement that moves his hand each time he refines, with a porcupine quill, a detail of coral, flower or feather.
Coinciding with La Biennale di Venezia, Shaw inaugurates his first solo exhibition in Italy, showcasing twelve new artworks created over the last two years in his studio in London. The brushes of Giorgione, Tintoretto and Pannini still find their way along the contours and light grooves that Raqib Shaw traces with constancy and dedication. An attraction for the art of the masters, that born in Raqib during a visit to the National Gallery in London, in front of Holbein's masterpiece 'The Ambassadors' (1533). The artist says about this encounter: "What I really loved about 'The Ambassadors' was that it was a painting about merchants. And I thought to myself, I don't want to be the merchant, I want to be the guy who paints the merchants". So, deciding to dissolve that close and almost suffocating bond with his family's tradition of merchants who lived between Calcutta and Kashmir, Raqib enrolled in the Central Saint Martins art school in London, giving his life a definitive twist.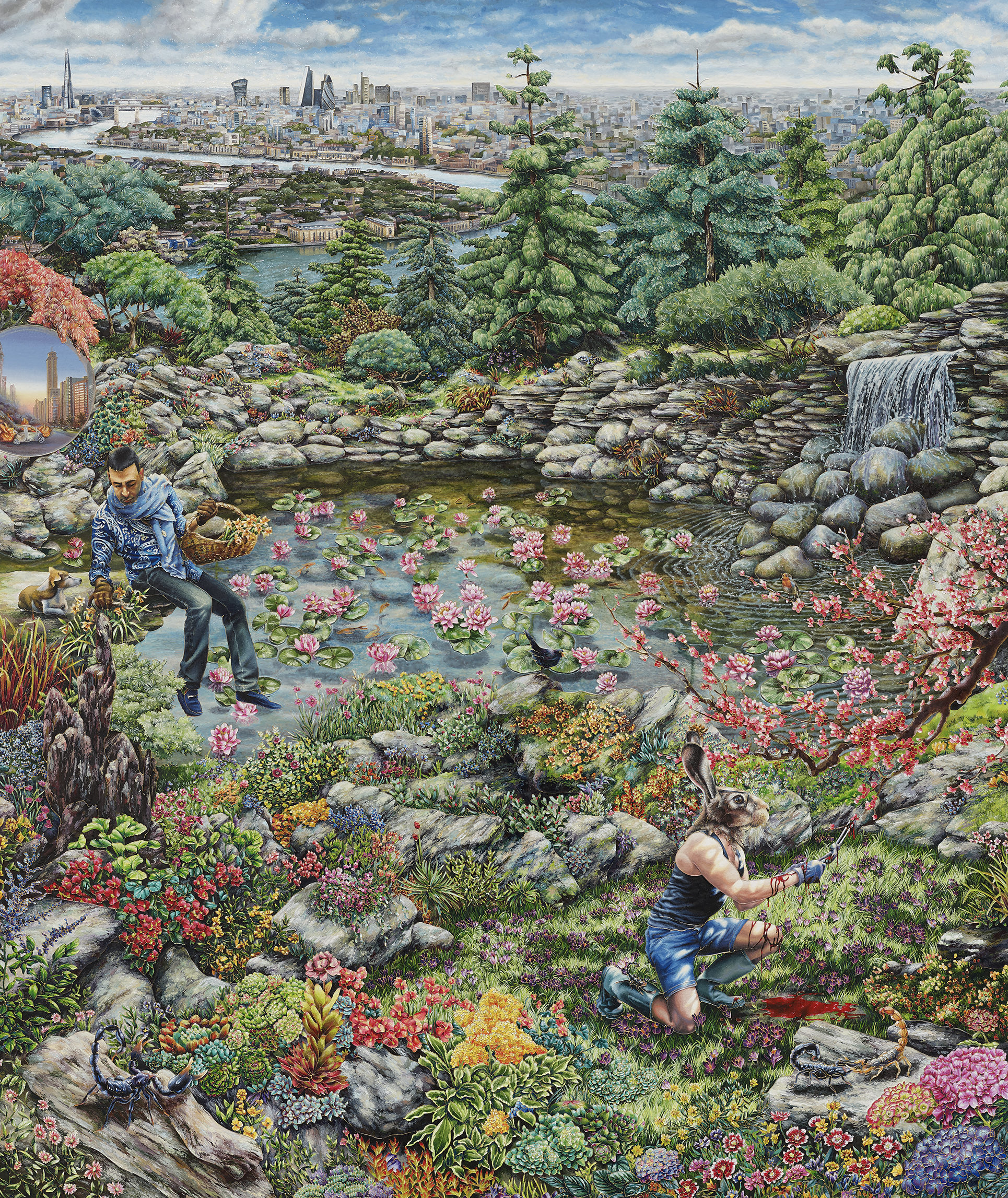 In the works exhibited in the rooms of Ca' Pesaro, the mixture of Eastern and Western iconography is evident, revealing the several cultural sources from which the artist draws: from mythology, poetry, theatre to religion, history and science.
In front of his new work La Tempesta (After Giorgione) (2019-2021) – a highly personal reinterpretation of the work by the Venetian master Giorgione, dated 1502-1503 – visitors realize how the woman and child of the original composition have been replaced by the figure of Raqib himself. Beyond the clear, subdued and precious colors in the foreground, an entire city burns in the background: ancient architecture swarms in the flames, riots and conflicts enliven men in rage and despair. It is an autobiographical journey that Shaw recounts in this work, starting from Giorgione's Venice, then moving on to modern London and finally to the devastating civil war that struck his homeland when he was just a child. Past memories that conditioned the artist's existence, who recounts: "When there is great political unrest, you realise what it means to be a refugee. In the mornings, at school, roll-calls were made and when the teacher called the name of someone who was not there, a deep, icy silence fell. Everyone knew in their hearts that those students would not return, that they were dead" (Global Indian, A hero's journey, 23 July 2022).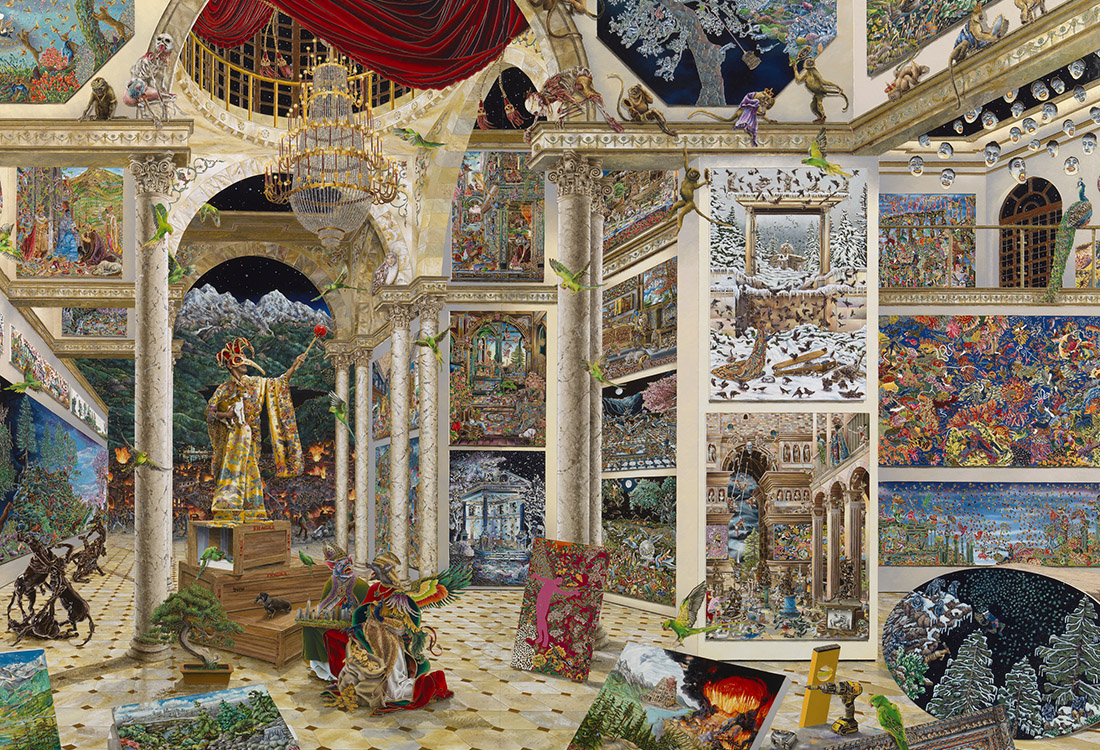 In addition to the cultural citation of Giorgione, the body of work on show in Venice shows an explicit reference to the painting of Tintoretto, in particular the paintings of 'Santa Maria Egiziaca' (Scuola Grande di San Rocco) and the 'Presentazione della Vergine al Tempio' (Church of the Madonna dell'Orto). The monumental work, The Retrospective, 2002-2022 (2015-2022), on the other hand, recalls Giovanni Paolo Pannini's 1757 masterpiece, 'Galleria di vedute di Roma antica', in its compositional structure, representing an imaginary retrospective organised by Shaw himself, through the depiction of more than sixty miniaturized versions of the paintings and sculptures created by the artist over the time.
Shaw's work, which can be found in the world's most prestigious art galleries, is the result of a thinking, learning mind and an indefatigable hand that has been working for a long time and does not intend to stop it.
Rocco Belosi – Contributor, Venice
RAQIB SHAW – Palazzo della Memoria 
22.04.2022 – 25.09. 2022
Discover more: capesaro.visitmuve.it