Ray Caesar: 5 never-been-seen works at PULP – Works on Paper
Reading Time:
5
minutes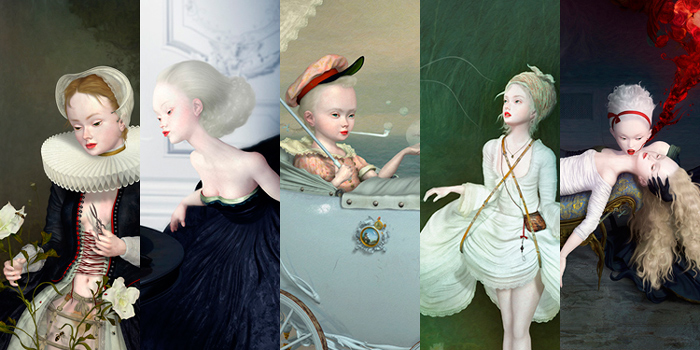 In the occasion of PULP – Works on Paper, the ongoing exhibition at Gallery House, Toronto, Ray Caesar presents with his own words the 5 never-been-seen works that can be admired for the first time during the exhibition: "Communion", "Helios", "Swee Pea", "Returns of the Day" and "Vampyr".
The works present the new sceneries in which are involved his charming, diaphanous, old fashioned girls. Everything done with his unique and never-boring surrealist touch.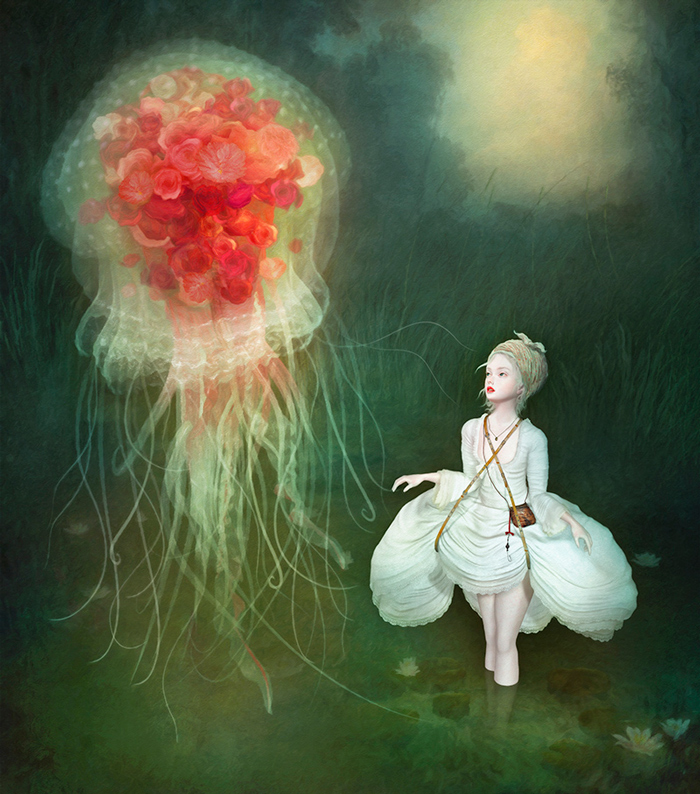 Ray Caesar, Communion, 2017, 30 x 34″, Digital Ultrachrome on Archival Paper, Edition of 20. Courtesy of Ray Caesar | Gallery House
About the work "Communion", Ray Caesar said: "Most of my adult life I have been trying to have a dialog with a part of myself that is difficult to understand, and even more difficult to communicate with. Often I come face to face with some aspect of my own subconscious nature that absolutely stuns me into a prolonged phase of inaction. It could be a horrific or stunningly beautiful and confusing dream; a period of voices talking in my ahead that actually make a lot of spiritual sense. […]
To rationally understand, we need our irrationality… that is our strength. We can love the
unlovable. […] We need to learn to talk to the two sides of our own nature before we can solve the problems we face as a species. We need a bit of Hope, and Hope isn't entirely a rational thing, and it's not entirely irrational to want it. The universe has more mysteries than answers, and belief and disbelief are two dimensional sides of the same coin that is spinning in the air creating a three dimensional state of open minded and amazing "WONDER"."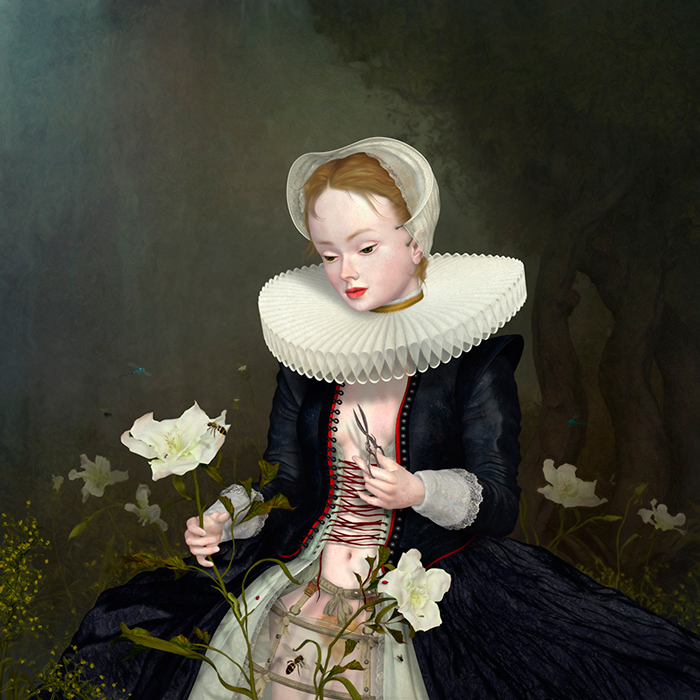 Ray Caesar, Helios, 2017, Edition of 10. Courtesy of Ray Caesar | Gallery House
About "Helios": "Are we not each the center of our own solar system, the radiant source of life and energy of all that is that revolves and navigates about us? Is it not our own radiance that keeps our own conscious world alive and abundant? […]
This centre is what gives life to the constructs around us, like the sun gives energy and life to a flower, and its rhythms and movement across the sky give us the perception of time.
We are living in a clockwork device of time, gravity and energy. […] Does this infinity only exist in our mind's eye or is the inner world merely a reflection of the universe around us?
We each have the power to let things thrive within our orbit. A flower is grown and cut… its past, present and future at our disposal. […] We are after all looking deeper within and further out. My only hope is the memory of it will be enough."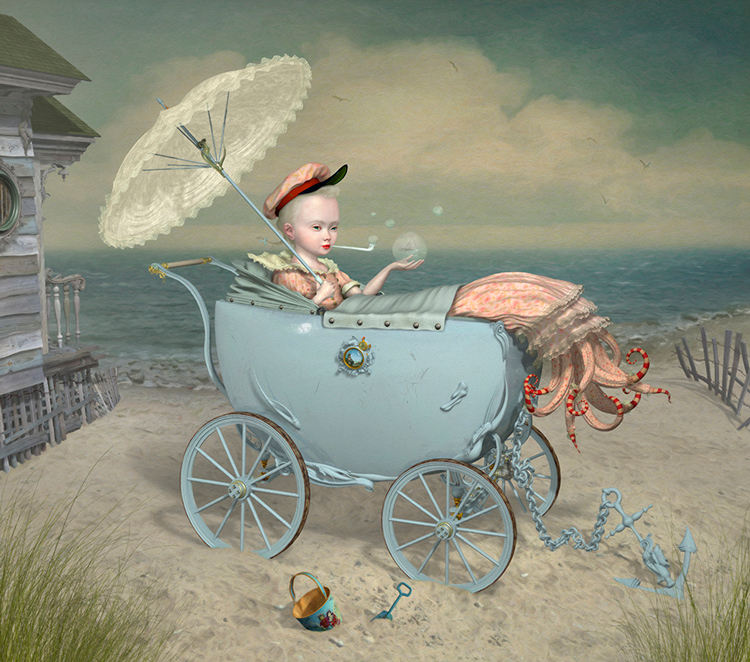 Ray Caesar, Swee Pea, 2017. Courtesy of Ray Caesar | Gallery House
About "Swee Pea": "In 1961 at the age of three, my family got our first television, a second hand 1950s monstrosity of dark oiled wood and ancient cloth covering unintelligible speakers. […] A cartoon with Bluto and Popeye in some kind of violent eternal endless fight that strangely told of the power of a canned vegetable torn open and swallowed Glug, Glug, Glug… I was suspicious of this sales pitch but immediately identified with Swee Pea crawling around on the floor in a land fraught with violence, weaving happily between the feet of those shouting, screaming and punching.
This was also my world…and it only solidified the knowledge that this was the way the world was. Swee Pea moved through this world with a happy resilience, always seeing it as perfectly normal and everything as it should be. In time I learned he was not "Baby Oyl" but an "Orfun" left on Olive Oyl's doorstep in a basket. He had a strange tentacled body that made me think he was an
unusual mermaid child, a kind of gelatinous moving creature that was possibly a gift from the sea.
[…] Today when I see a child in a baby carriage I marvel at their resilience and how they are learning about the  world around them and solving every puzzle and mystery they are faced with. How they pick themselves up after each fall and keep on struggling to walk in a world intent on knocking them down. How they struggle and form words and ask endless questions, fully and innocently expecting us to know all the answers. I marvel at what they are and what they will become, and I worry more than a little of the future world that we are leaving them to live in."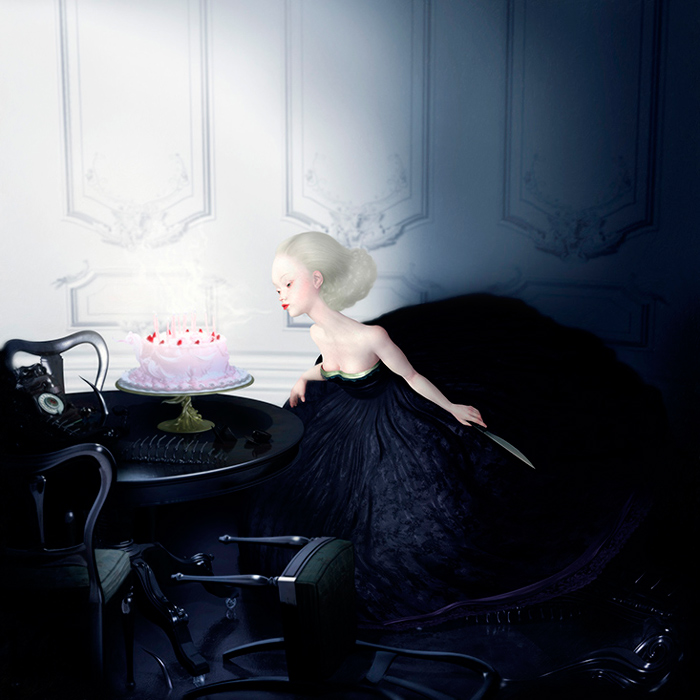 Ray Caesar, Returns of the Day, 2017. Courtesy of Ray Caesar | Gallery House
Ray Caesar's words about the work "Returns of the Day": "I love the ritual of "Cake" on special occasions like weddings, birthdays and even at funerals. I love the art of slicing the cake with cold steel, separating it into parts and exposing the sponge and creamy jam layered interior. All the better if the skin of the cake has a flesh like marzipan holding together the sculpted rose prey like it was a sacrificial animal surrounded by predators waiting for the kill to be divided.
As a child I loved licking the knife after the cutting was done and after my brother, the moderator, had expertly measured each slice to be exactly the same size in case a fight would ensue over any slight of a
lesser member of the pack. Life in my family was Chaos, Disorder and Violence but the ritual of the Cake and the ritual of making the Tea was sacrosanct, and for one small moment in time, we were civilized and the pack had its logical hierarchy and we all knew our place.
Eating cake in my family was like the old pagan ritual of eating the sin of the dead, as it involved guilt and indulgence, judgment and bittersweet memories of cakes of the past. […]
It has always seemed to me that Cake would eventually kill me and it's only fair for all the cakes I have killed in my lifetime… that would ultimately be its final revenge… as prey turns to predator and predator to prey. Perhaps I respect cake so much as cake has always seemed like death in my family, a reminder that each cream numbered birthday is one step closer to that final and sternest goodnight, as the candles of life are extinguished with a blow and a wish."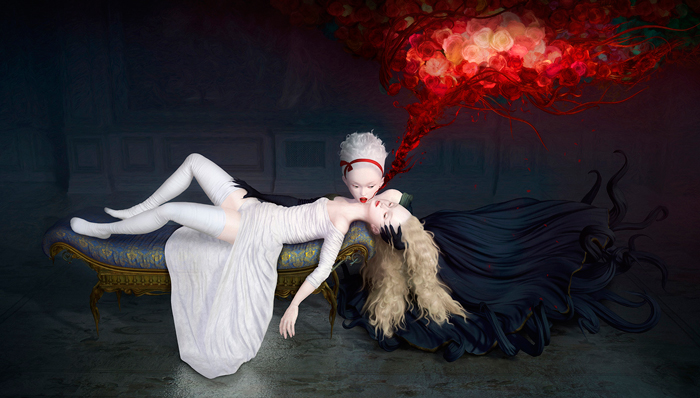 Ray Caesar, Vampyr, 2017. Courtesy of Ray Caesar | Gallery House
About "Vampyr": "When I was around nine years old, I had a bad dream. I had lots of them and still do but this was one of my "wide awake dreams" when I was supposedly not asleep. I dreamt of a very old thin man with a crinkled crepe paper face with black eyes, in a black suit, standing over my bed.
He was being supported by these celestial beings of shiny gold light who seemed to be holding him up. I was frozen as was to be expected. […] Anyway, I was eventually able to get up and run into my older brother's room and lay down underneath his bed. He never let me get into bed with him so the rule was I could lay under his bed if I wanted to.
He asked me what was wrong and I told him that Dean Martin and the Golddiggers were in my room and that they wanted to drink my blood. […]
I have always been interested in parasites – be it fleas, rats, bats, mosquitoes, ticks, humans… what have you. I am fascinated by the way one life exists and survives through feeding off another.
Over the years it has occurred to me that emotions and memories can sometimes be parasitic in nature and consume vital life force in great quantities. It has to be said though that vampires also give back as much as they take, and the curative effects of eternal life as one of the living dead is something I might take a while to mull over. […]
What is taken from us sometimes makes us stronger, so they say. I am not sure about that but I might say that over time, any loss may come with an unexpected benefit that might be tricky to explain.
I had a difficult childhood with real life monsters, and they drank from my life in the way a vampire may have taken my very life essence. There might be a part of me that will always resent the loss of innocence but the gift of awareness of the still and unmoving singular moment is one of those unexpected surprises that can often take a lifetime to realise, and it comes to us in the night in the form of what we simply refer to as Art."
PULP – Works on Paper
Ray Caesar | Selena Wong | Lori Field
November 4 – December 14, 2017
Gallery House, Toronto Canada
Discover: galleryhouse.ca