CYBER HUMAN LANDS: THE WINNERS – SEE THE VIDEO SCREENING!
Reading Time:
2
minutes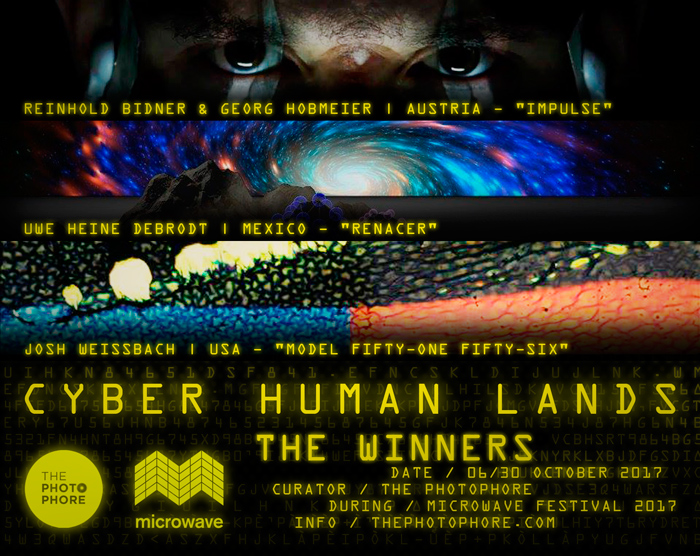 The PhotoPhore is very proud to announce the 3 WINNERS of CYBER HUMAN LANDS organized in collaboration with Microwave Festival 2017:
Reinhold Bidner & Georg Hobmeier | Austria – "Impulse"
"Impulse": A performative and audiovisual experimental film/animation: currents of electricity and its production were analyzed and introduced into a human host via electrodes. The resulting impulses and physical motions were recorded in the powerplant Wien Simmering. The visual material was then edited and mixed with Max Bense's text "technical existence" (written in 1949), where the philosopher Bense adresses ethical question concerning mankinds uneasy relationship with machines and technology.
Impulse was awarded with the jury's price at Vienna Independent Shorts 2013 – Night of the Light Competition.
Uwe Heine Debrodt | Mexico – "Renacer"
"Renacer": Somewhere ,abstract beings like viruses ,come out of their technological worlds full of lights and false urban illusions. Missing a different future , they search their forgotten origins…
They reunite to discover the messages of geometrical forms and recover the elements of life, to get transformed again connecting with nature.
Public vote selection:
Josh Weissbach | USA – "Model Fifty-One Fifty-Six"
"Model Fifty-One Fifty-Six": The video displays the physical changes of the maker's heart since being born with the congenital disorder, transposition of the great vessels. This chronicle envisions a convergence of the human and the cyborg, connecting personal vulnerability to 1980s science fiction.
You can enjoy the online screening of selected videos on Microwave website too: www.microwavefest.net/festival2017/Screening
PRIZES
– selected videos will be screened on Microwave Festival official Facebook page (October 6-30, 2017)
– selected videos will be screened on the PhotoPhore dedicated on-line page and Facebook page (October 6-30, 2017)
– selected authors will be FEATURED on the PhotoPhore platform through a DEDICATED ARTICLE and INTERVIEW;
– the articles will be PROMOTED and shared on the PhotoPhore SOCIAL PROFILES (Facebook, Twitter and Instagram);
– the still images from the winning videos will be used as COVER PICTURE of the PhotoPhore social profiles for 2 weeks;
– a DEDICATED NEWSLETTER about the winners will be sent to the PhotoPhore mailing list with more than 25.000 subscribers.
The PhotoPhore is really glad for all the participants and works submitted.
CYBER HUMAN LANDS