CALL FOR VIDEO ARTISTS: #PostReality
Reading Time:
2
minutes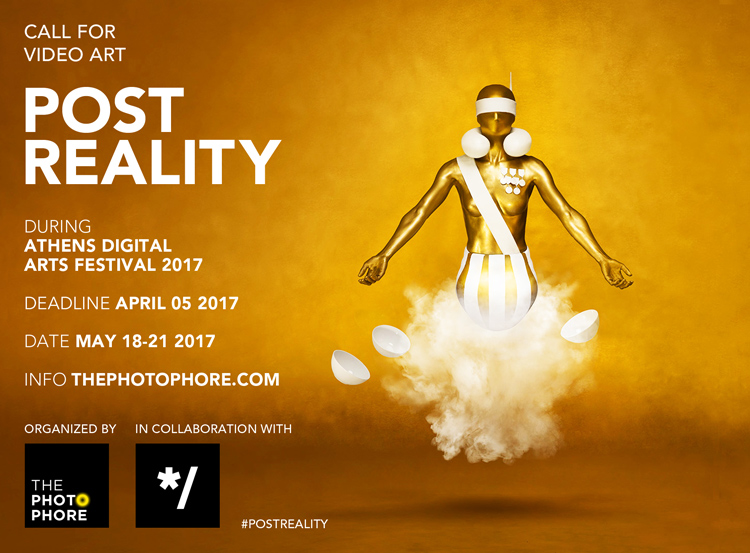 The PhotoPhore, proud partner of ADAF 2017, opens its call for artists #PostReality. We are searching for video-art works, short movies, digital and animation films, to include in our official selection for the 13th Athens Digital Arts Festival – ADAF 2017. The screening will be part of the festival programmed from May 18 to 21, 2017, in Mitropoleos 23 str, in the historic center of Athens, Greece.
Deadline for submissions: April 05, 2017
The festival is developed around the theme of #PostFuture. The PhotoPhore's selection will be focused on the sub-category of #PostReality.
#PostFuture: The elusive transition of digital culture is shaping a future 'beyond digital', where the physical and the digital are merging. Today, as the digital culture has been stabilized into our everydayness and reflected from the coherence of the 'real – virtual' boundaries, we are moving forward to a most abstract creation. The necessity of innovation and excess of limits is a primary goal, imposed by the ever evolving technological fetish.
#PostReality:  Reality exists only in the present. Every person lives his/her reality here and now; it's the context which everyone lives in and is influenced by. The existence itself is the main factor that modifies reality and, at the same time, in an endless cycle, the alteration of the context is the reason of new changes in the existence. Contemporary reality is always more full of inputs and possibilities: new technologies that removes time and space boundaries,  scientific discoveries, the limitless power of imagination and the endless possibilities of actions, constantly open new scenarios.
We ask artists to show us the infinite possibilities that reality offers to overcome itself. Technology, dystopia, utopia, parallel universes, dreams. Everything that could happen, also without knowing how.
To take part in the selection, please send us by email the following materials:
– video works (as a link or file in MPEG, MP4 or AVI format)
– filled submission form: click here
– CV
Submissions need to be sent to info@thephotophore.com by April 05, 2017.
Submission does not guarantee acceptance. Selected artists will receive the confirmation by email at the end of April 2017.
The selection is open to international artists and video makers. The participation in the selection and in the festival, for confirmed works, is completely FREE.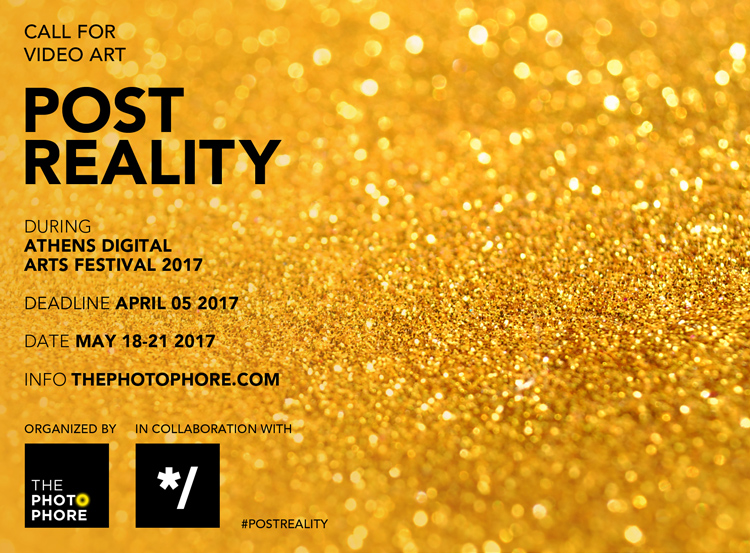 Athens Digital Arts Festival – ADAF is an International Festival which celebrates digital culture through an annual gathering bringing together a global community of artists and audiences. Athens Digital Arts Festival encourages, stimulates and promotes all aspects of digital creativity by hosting local as well as international artists and communities.
The PhotoPhore is a web based platform about contemporary art, photography and architecture. It curates high quality contents, dedicating its attention to projects characterized by a great visual impact and distinctive concepts. The PhotoPhore strongly believes in art and culture sharing and it's always open to start a dialogue and built partnerships with art festivals, galleries and contests.
For more information and to submit your works for the call, send an e-mail to info@thephotophore.com
Call for Video Artists: #PostReality
Official selection for ADAF 2017
Deadline: April 05, 2017
the PhotoPhore
info@thephotophore.com
www.thephotophore.com
Salva
Salva
Salva
Salva
Salva
Salva
Salva
Salva
Salva
Salva
Salva