LIGHT ON: Aof Smith and the battle of Pop Surrealism
Reading Time:
5
minutes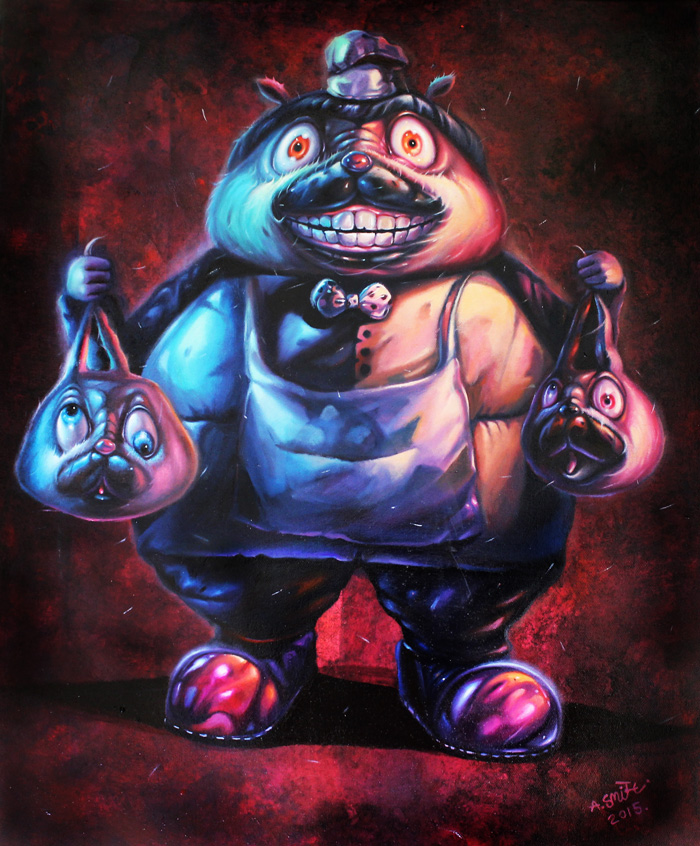 Aof Smith is a great Bangkok based Thai artist: visionary, clever and technically gifted.
Clearly influenced by Pop Surrealism, an increasingly borderless art movement, Aof has created its colorful and, indeed, surreal world.
A world made up of strange characters, that derive from humans and animals, almost always in contrast between them. And of course, looking at it well, it's a world that looks a lot like ours, or maybe it could derive from it.
It's a sarcastic and cruel world. And even in this it doesn't differ too much from the world in which we live in.
In Aof Smith's world, however, cruelty is not just the prerogative of human beings, as in everyday life. All creatures, a sort of "dark side" of tender pets, are ready to act and react.
It's a world in which the selfish behaviors of human beings are not left unpunished. Nature has found the way and the ability to rebel, to fight on the same level of its degenerate son, the man.
The battle is always around the corner, and Aof Smith dresses it with bright colors, a thousand of details, unnatural and hypnotic reflections and lights.
The taste for the beauty of chaos takes over and spreads on the canvas with scenes of the fascinating apocalyptic flavor.
We asked Aof a few questions to get to know him and his art better.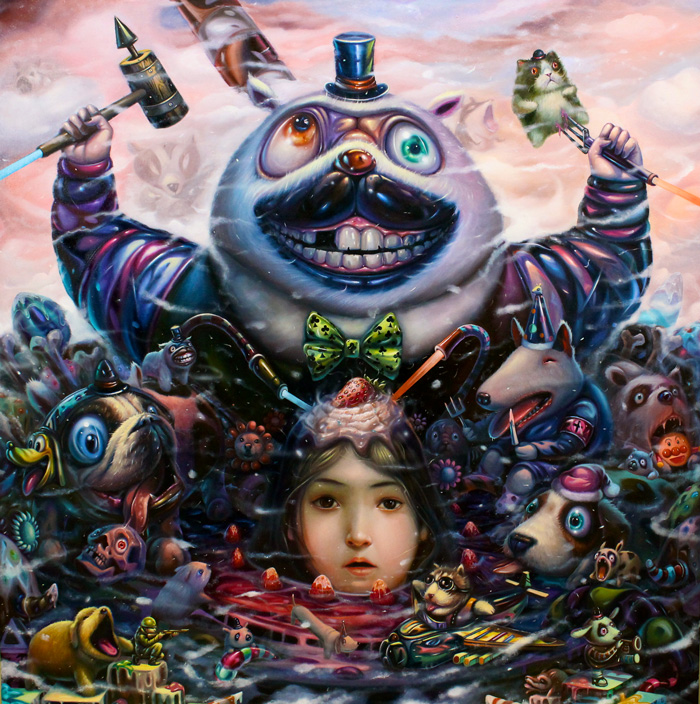 The PhotoPhore: According to us, your works, your style, can be inserted in the great and varied international current of Pop Surrealism.
Do you feel in some way an integral part of this "movement", of this sub-culture? If so, how? If not, why?
Aof Smith: Yes, I totally agree with my art style to be Pop Surrealism. I was driven by most of the former artists in this culture. It always have my interest since I start to paint seriously. I want my art to be able to speak sarcastically on subject that I'm interested in.
T.P.P.: What are your artistic/cultural references? You can specify individual artists or artworks, or cultural movements and so on…
A.S.: I like and practice a lot of Impressionism as an art student. Ron English and Greg Craola Simkins were the former artist I would mention as my main influence.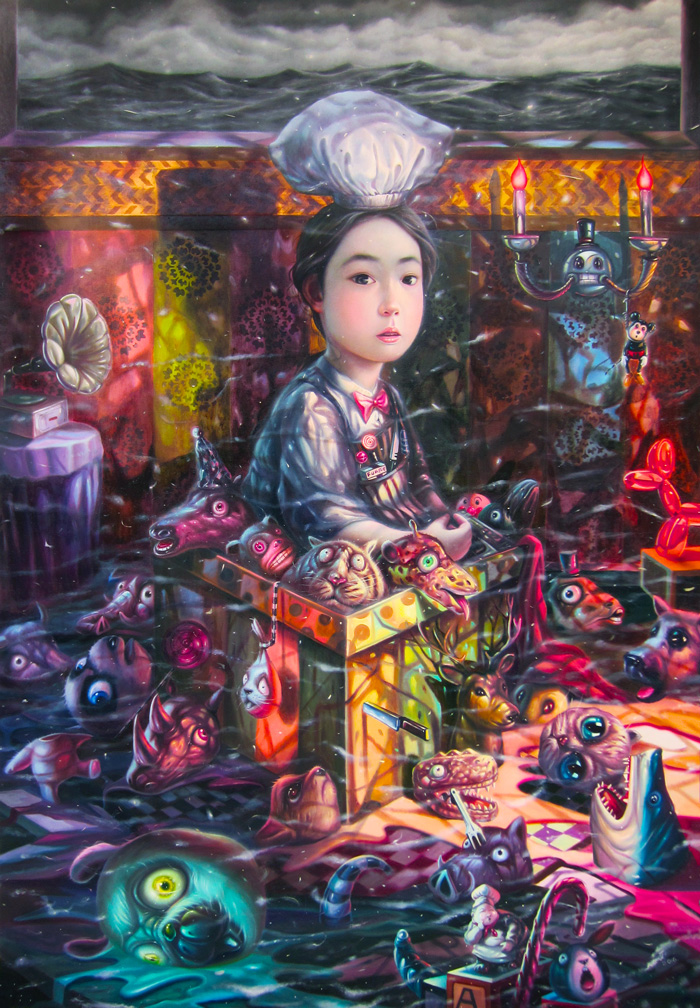 T.P.P.: Let's come in particular to your works. From the very beginning, many of your works have recreated a parallel world, and this is evident from the headlines: in the 2010 production there are 5 works entitled "Land of Abnormal".
And there is a 2016 picture, from the "Silent Ravage" series, which is even more explanatory: "My Pandora Box".
In Greek mythology, in the Pandora's box all the evil of the world was contained, and this reference is still current in many languages. What's in your Pandora's box? Where do these strange creatures come from? And above all, where are they going?
A.S.: My Pandora Box is not different from what all others believe. It contains the darkest part of human's cruelty and psychosis. This painting captured the moment of a girl playing with her animals toys which actually are made of real flesh. You often see lots of bad news on media in my country and around the world on how people can be so cruel and abuse their pets in such way.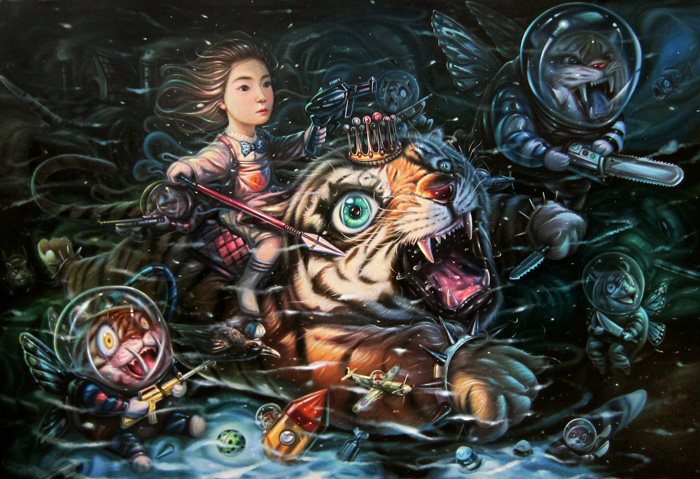 T.P.P.: In this parallel world it seems that there are often conflicts between creatures.
We cite 4 indicative works: "A chaos happens in Parallel World" (2014) [from the series "Skeptical" (2014-2015)], "Final Ravage" (2017), "Fight for Fay" (2016) and "Fight for Furry" (2017), [from the series "Silent Ravage"].
According to that, this "parallel world" doesn't seem unlike the one in which we live in. Do you think that the idea of "conflict" is an important theme for your art, and for your "parallel world"?
Do you think that it will be an "eternal conflict" (in which all the things of the world are in constant struggle with their opposites, as in the philosophy of Heraclitus), or you believe that, in the end, in "your world" at least, there could be a winner?
A.S.: "Silent Ravage" focused on the fight between animals and humans which, in my imaginary world, if the animals can speak and fight for themselves, you will definitely see the scene happen. But it doesn't happen. As long as we are cruel with other living beings, not just creatures but also with our nature earth – my next focus concept – there will always be a conflict for me.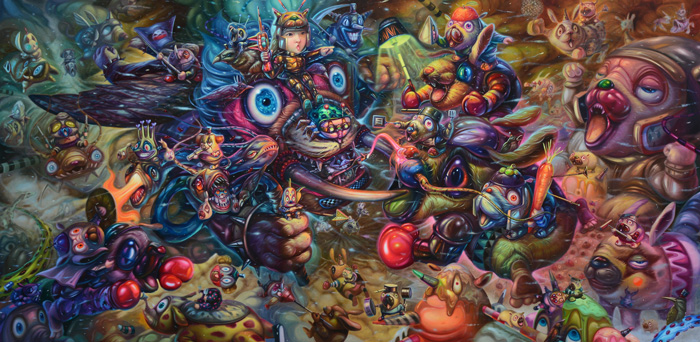 T.P.P.: In your works, in your art, is there a particular "message" that you want to transmit in a more or less precise way?
Or do the strange creatures of your "parallel world", just "meet" each others in your works?
A.S.: In my earlier paintings I just randomly created characters to fill in my paintings with the main focus, either a boy or a girl. Later after I noticed that there was always a little small fluffy bulldog in most of my paintings. That was the start where I introduced "Furry", the representative of all creatures and animals, and "Fay", the innocent looking girl that represent the human being. In the first exhibition, when these two characters first appeared in "Skeptical", the focus was that Furry felt skeptical about this world and then, the series developed to "Silent Ravage" where it was time to rise for himself and his friends against the cruelty of humans.
T.P.P.: Is there an artwork (made by you) that you prefer, and why?
A.S.: I would say I like all my works, big or small, I dedicate the time of my life to them.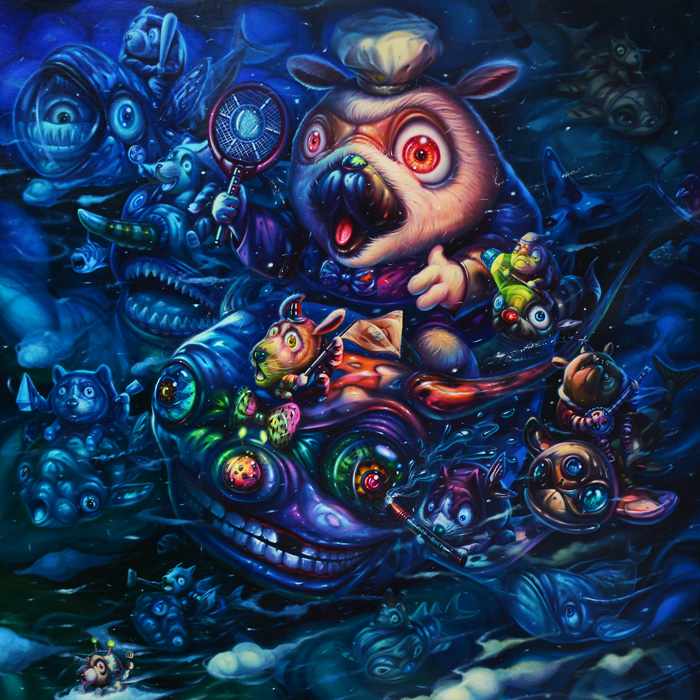 T.P.P.: Let's come to the world of art that surrounds us: Do you have a favorite artist and a favorite artwork (not made by you)? Why?
A.S.: The artist I prefer is Ron English.
T.P.P.: From your point of view, which is the "artistic situation" in Thailand, where you studied and live? Which are the most appreciated contemporary artistic movements?
A.S.: In Thailand there are many strange things you can hear and see, whether you want to or not. This gives me a lot of ideas to reflect on my artwork.
T.P.P.: Suggest us an artist to discover/to feature on the PhotoPhore.
A.S.: Two Thai artists: Mr.Sexman and Chantawut Suwannahong.
Text by Domenico Fallacara | the PhotoPhore and Aof Smith
Discover: www.aofsmith.com